You cannot import more than one design into the hoop unless it is from the Built-in Library designs. It is possible to add a Library design or Lettering to a pre-digitized design during layout.
With the SINGER FUTURA you can merge imported designs by opening the second design through the File > Paste Design menu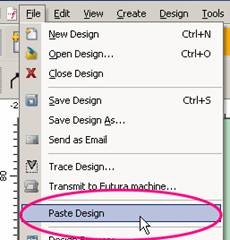 Using this feature will open any additional patterns into the previously opened canvas.
Open the first design as usual. File > Open or use the tool bar shortcut icon. Then when opening the next pattern left click on File > Paste Design. This function can be repeated as many times as desired.